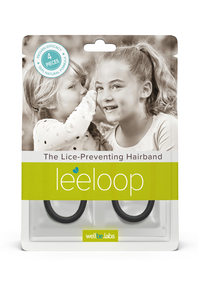 Leeloop Lice-Preventing Hairband
Kid-friendly, simple to use, just wear & go! It's easy to protect your kids from lice with Leeloop.

Clinically proven to prevent lice naturally. We use a revolutionary technology that seals our PhytoClear Complex into the Leeloop Hairband safely, protecting children from lice. The 100% natural formula emits a scent that kids love and lice hate.

Immediate efficacy in protecting against lice contamination

Patented smart-hairband innovation

Clinically proven 95% effective in lice prevention*

100% natural – no pesticides or harmful ingredients

Each hairband provides up to 2 weeks of lice protection

Not tested on animals

Dermatologist tested

 

*Efficiency and safety tests performed by independent institutions.

Make sure your child's head is 100% free of lice and nits before using this product. The product will be ineffective if placed on an already contaminated head.

Your child's hair must be fully dry before using the Leeloop Hairband.

Open the Leeloop Hairband individual packet.

Stretch the Leeloop Hairband for 3 seconds. This action will trigger the formula sealed into the band's fibers and will activate your hairband.

Carefully form ponytails, buns, or braids and fasten the hair with the Leeloop Hairband. You may wish to use more than one hairband, depending on the length and volume of hair to be protected. It is recommended to use more than one hairband for thick hair or long hair that falls below the shoulder.

.

Rosemary Leaf Oil, Peppermint Oil, Citronella Herb Oil, Sage Oil, Lavender Oil, Fennel Oil.